If you are in the market for a great book to learn how to sew, then this if the best sewing book for beginners. First time sewing is an amazing instructional book that teaches you everything you need to know to start to learn how to sew.

Best sewing book for beginners – First Time Sewing
Maybe you have decided you want to learn how to sew and don't really know where to start. Or maybe you have a friend who needs great information on picking up this fun hobby. In any case, books are a great way to learn a new skill.
*This post contains links to affiliates. Please see full disclosure here.
                   ======> In a hurry? Get the First Time Sewing book here! <===== click this link!
Finding the best book for learning how to sew can be challenging with the vast options of beginner sewing books, so that's why I thought to start a series for the best sewing books for beginners. In today's post I am introducing a wonderful book, packed with information on learning how to sew!
First time sewing – The absolute beginner's guide!
First Time Sewing: The Absolute Beginner's Guide: Learn By Doing – Step-by-Step Basics and Easy Projects

This sewing book is perfect for the absolute beginner who literally knows nothing about sewing. The author of this sewing book took baby steps by showing you what you need to know to start this rewarding hobby. It is basically a 'hold your hand' technique in which she describes every step on how to learn to sew. This book comes with several easy projects as well so you can jump right in. By the end of reading all 128 pages, you will feel confident and ready to sew!
&
&
You will earn the following sewing skills:
how to hem
how to sew seams
how to balance tension
how to use a pattern
Take a look inside this book:
This sewing book explains the functions of a regular sewing machine.
You will learn what each dial or button does. This is essential for learning to sew.
The book comes with all the necessary explanations of a sewing machine's part and functions. You will learn what for example a bobbin winder spindle is. Or what a feed dog is and how it can be adjusted.
After learning the sewing machine basics, you will be ready to move on and continue learning.
Here are a couple of reviews: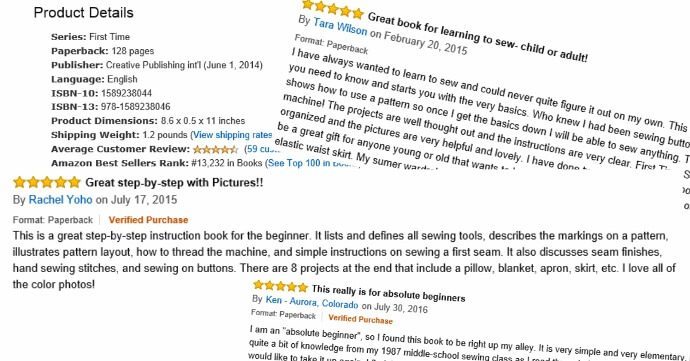 As you can see, this book is a great deal and everybody seems to love it! Be sure to check this book out ASAP!