Hi I'm Jaime, online most everywhere as Made By Jaime. I'm so excited to share this free Beginner's Quilt Pattern with you. This was the quilt I cut my teeth on during my first class at the quilt shop and I've been dying to write it up for others to enjoy. I love making them for a new baby because it's larger than your average 36″ square baby quilt and will last them as long as they love it. It's also great for anyone as a lap quilt!
Beginner's Quilt Pattern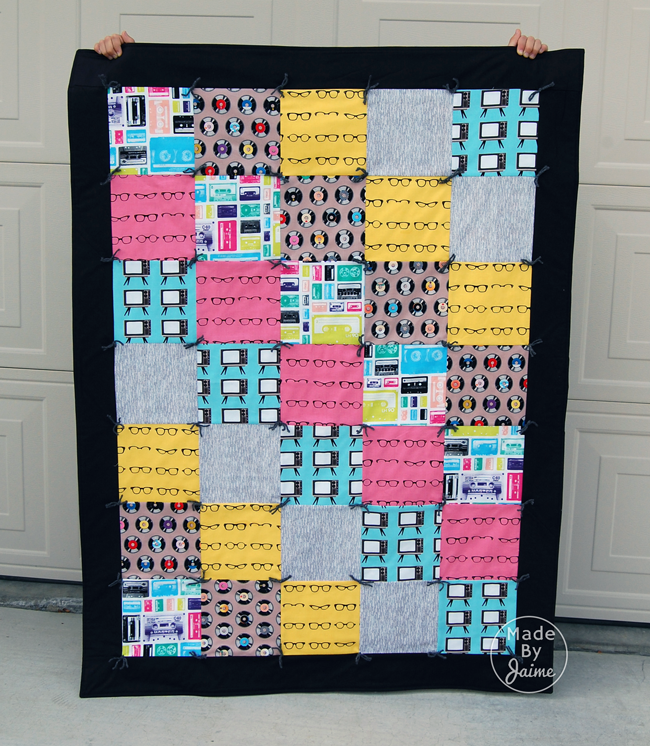 Supply List
1/4 yd each of 6 fabrics OR 6 fat quarters for squares
5/8 yd for border
1 1/2 yd for backing
1 crib size (45" x 60") packaged batting or
equivalent yardage
Embroidery Floss or Thin Yarn for tying
Neutral or Matching 100% Cotton Thread
Chenille Hand Sewing Needle
A sewing machine
Quarter Inch Foot
Rotary Mat & Cutter
8.5" x 24" Quilter's Ruler
Variation:
This quilt was originally intended to be finished using the envelope/pillowcase method and hand ties. If you prefer to finish with machine quilting and binding, leave off the Embroidery Floss/Thin Yarn & Chenille Needle and add the following supplies:
3/8 yd fabric for binding
Matching 100% Cotton Thread for Machine Quilting
Go to the tutorial by clicking HERE!